Pastor Oliver B.J. Archer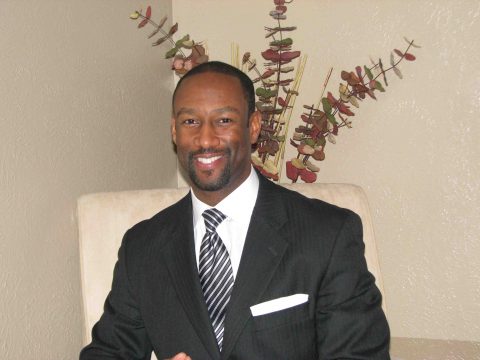 Pastor Oliver Archer was born and raised in Brooklyn, NY. He has spent his entire educational
experience in Seventh-day Adventist schools. He graduated from Andrews University in 1991
with a Bachelor's in Religion and Technology. He completed his Master's in Religious
Education in1994.
Pastor Archer ministered for the next seven years as an Academy Bible Instructor. Then in 2000,
he was ordained by the Michigan Conference of Seventh-day Adventists and installed as the
Associate Pastor for Youth at the Pioneer Memorial Church on the campus of Andrews
University, a position he held until 2010. Pastor Archer became the pastor of the Berean S.D.A.
Church of South Bend, IN and the Voice of Hope S.D.A. Church of Michigan City, IN between
2010 and 2013. In May of this year, Pastor Archer was installed as the pastor of the Community
Fellowship S.D.A. Church of Lathrup Village, MI and the Living Water SDA Church of
Southfield, MI.
Pastor Archer was blessed by God to marry the former Dr. Arlene Edwards on May 25, 2008.
This union has enhanced his ministry, fortified him spiritually, and filled his life with a foretaste
of heaven. Dr. Arlene Archer is a Clinical Psychologist and Professor. She taught at Oakwood
University for three years and has held various counseling positions. Dr. Archer shares in her
husband's passion for youth and young adults. She is a singer, as well as an accomplished
speaker and presenter in her own right. Their union has blessed them with three children.
Edward John, born in September of 2010, Delisa Lyn born in August of 2013 and Bella Grace
born in July of 2017.
Pastor Archer has been a Week of Prayer speaker in various settings. He has been a camp Pastor
for summer camp programs and a camp meeting speaker for youth and young adults. He also
has spoken overseas in Eastern Europe, South America, Africa, and also on the British Isles.
Pastor Archer has appeared on the Three Angels Broadcasting Network as a feature speaker for
their 'Faith Chapel' series. Pastor Archer has seen many first time commitments, recommitments,
and baptisms as a result of the Spirit's work through his ministry.
One of Pastor Archer's favorite Bible passages is Rom. 13:11 - 14. 'And that, knowing the time,
that now it is high time to awake out of sleep: for now is our salvation nearer than when we
believed. The night is far spent, the day is at hand: let us therefore cast off the works of
darkness, and let us put on the armour of light. Let us walk honestly, as in the day; not in rioting
and drunkenness, not in chambering and wantonness, not in strife and envying. But put ye on the
Lord Jesus Christ, and make not provision for the flesh, to fulfill the lusts thereof.'
Let us be faithful, so that when He comes, He may find us ready. Maranatha.
Dr. Arlene Archer
Dr. Arlene Archer is a Canadian born, second generation West-Indian, and the last of three
daughters born to Dr. and Mrs. Haskell Edwards. She grew up in the beautiful city of Toronto, where
she attended Crawford Adventist Academy for her elementary and high school education. Following
high school, she attended Oakwood University (formerly Oakwood College), where she obtained an
undergraduate degree in Counseling Psychology. Without skipping a beat, Arlene began her masters
and doctoral studies in Clinical Psychology at Argosy University (formerly the Georgia School of
Professional Psychology) in Atlanta, Georgia. Her area of theoretical specialization is Child and Family
Therapy; however, her clinical experience includes diagnostic testing with diverse populations and
treating adults dealing with interpersonal and developmental issues, as well as substance abuse,
personality, and mood disorders.
During her fifth and final year of graduate studies, Arlene interned at the State University of
New York at Albany, where she worked as a therapist at the University's Counseling Center. She also
taught University level courses and provided clinical supervision and training to students enrolled in the
University's peer counseling and education program. It was during this time that Arlene strongly felt
the Lord leading her to pursue teaching at the University level, where her clinical skills would be able to
inform her instruction and enable her to mentor, advise, counsel, and befriend her students. As such,
immediately following the completion of her graduate studies, Arlene accepted a full-time teaching
position at Oakwood University.
Arlene is currently an Assistant Professor working in the Psychology Department of Oakwood
University, where she teaches a variety of Psychology courses and is the sponsor of three student
organizations. Because of her strong interest in family and marital research, as well as in relationship
counseling, she is often asked to give presentations, lectures, and workshops on a variety of relationship
issues.
When Arlene is not working, she enjoys singing, exercising, reading, watching TV, and spending
quality time with friends and family.
Children